Fall 2010 Puppy Update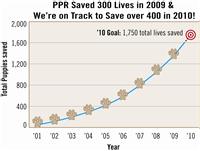 Dear PPR Family,
It's hard to believe that the summer is already coming to a close! While the weather has not always cooperated, PPR has continued to flourish due to our wonderful foster homes and volunteers.
This year PPR has rescued more than 250 puppies--nearly 1750 total since we began rescuing in 2001! We all know that time, patience and commitment are needed to properly train and socialize a new puppy, and we would not have as many Happy Tails without the dedication and work of our volunteers, fosters and transporters.
Along with rescuing puppies, we have been focused on providing free spay/neuter services for low-income families unable to afford the cost to alter their pet dog(s). Our main focus has been Nevada County, where we have helped spay/neuter over 50 dogs and puppies in the past four months. By altering 50 dogs, we can help save the potentially 100,000+ unwanted puppies that might have been born in just three years from overcrowded shelters.
In closing, I would like to extend a heartfelt thanks to all of our wonderful fosters and volunteers! Adopters frequently email us, letting us know that they couldn't imagine life without their beloved PPR puppy. It is because of each and every one of you that homeless pups are able to lead such happy lives.
Cheers,
Kathleen (PPR founder)
back to top

Happy Tails, Happy Endings!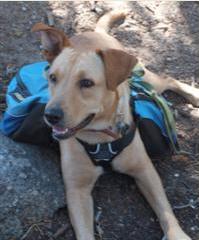 Before she came into our lives, Juno (aka Lydia) was found abandoned and nursing nine plump puppies. However, Juno herself was far from plump. She was so emaciated and sick with pneumonia that the volunteers at PPR were amazed that she'd managed to keep herself – let alone her pups – alive. Once weaned, the adorable 'Pasta Litter' pups were quickly adopted, but unfortunately Juno had to battle a lung infection and regain her strength before making her big debut.

Fortunately, this coincided with our big move into our new place: a small house with big yard and a tall fence! We had been planning to adopt an adult dog for some time, but were waiting until we relocated to a canine-friendly abode. Before the ink was dry on the lease agreement, we started cruising rescue sites in search of our new family member. Juno was the first and only candidate we needed to meet! Her PPR foster mom brought her to our still unfurnished apartment for a visit, and it was love at first lick.

Since then, life with Juno has been a joy. Already easy-going and loving with all people, Juno quickly honed her manners in Basic Obedience and is on track to become a Good Canine Citizen! With her sociable nature and one-ear-up, one-ear-down charm, she's the belle of every ball she attends. From our daily morning runs to hikes in the foothills and backpacking trips in the Sierras, she's the perfect companion for outdoor adventures. Most importantly, Juno completes our family and we're so grateful to PPR for bringing her into our lives. -- Andy and Anne Mills
back to top

Featured PPR Dogs: The "G" Animals!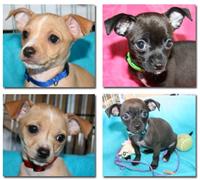 Meet the 'G-Animals' litter: Gator, Gecko, Gerbil, Goose and Gopher!
The 'G-Animals' litter – Gator, Gecko, Gerbil, Goose and Gopher – was saved from the shelter as one-week-old bottle babies. There are four girls and one boy, and they are classic little Chihuahuas complete with the fun loving personalities to match!
These are happy, loving dogs that are ready to find a stable home. If you are interested in any of these pups, please fill out an application!
back to top

Featured PPR Dogs: Brutus & Zoe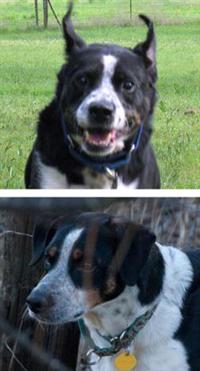 Dobbins dogs Brutus and Zoe are waiting for homes to call their own – are you a doggie angel who can help foster or give one of these loving pups a home?
Last October, PPR rescued 42 puppies and dogs from a single property, where they were living chained and in kennels. Today, we still have three of the Dobbins dogs that are looking for their 'forever' home.
Brutus is a very quiet yet sweet boy that loves to hang by your side. He's currently in a foster home and would be perfect for a retired person or couple.
Zoe is approximately two years old. She can be skittish on walks and in new situations, but Zoe is lovable, quiet and as sweet as can be!
back to top

Why I Volunteer
Each time I hand over a new, eight week old puppy to an eagerly awaiting family, I am reminded of why I volunteer. I picture the puppy's future life with her new family - the 10 year old daughter pulling her along in a wagon; accompanying mom and the kids on the daily walk to school; and faithfully lying at dad's feet, making sure he's never lonely after the kids have moved away to college. As I give a last hug to the pup, I know that I have done everything I can to give that dog the best life possible and ensure she never sees the inside of a shelter again.
How much time do any of us really have to give? Between work, family, friends, and all the obligations we have these days, it's hard to justify carving time out to volunteer regularly. However, once you do make the commitment to give, you won't regret a second of it.
I started volunteering in animal rescue right out of college. I longed for a sense of fulfillment and felt I was missing a connection to my community. PPR was the perfect organization to fill that void for me. Since 2001, it's been an eye-opening journey that has connected me with many wonderful experiences, people and of course unforgettable and truly deserving animals.
I hope you all will consider taking that first step and find something you know you'll take pride in five, 10 years down the road. PPR is truly more than just a non-profit rescue; we are a family. When you volunteer with PPR, you will see how your efforts make a real difference with puppies that come from extremely unfortunate situations, and you will hopefully find a sense of fulfillment as I have been privileged to these past years.
Email us at info@poundpuppyrescue.org about volunteering today - we could surely use the help!
-- Charlin Yamamoto
back to top

Puppy Tip of the Season
While summer is winding down in most areas, the warm weather is just beginning to emerge here in the Bay Area. And as we all know, warmer weather means that our pups are more susceptible to fleas.
To help you and your pup stay flea-free this season, here are some key flea fighting tips:
When purchasing flea prevention products, make sure you choose a product that stops fleas at every stage of their life cycle. Certain topical products will only kill adult fleas, and are a temporary fix until the eggs hatch and re-infest your pup.
Treating animals and their living areas thoroughly and at the same time is vital; otherwise, some fleas will survive and you'll need to repeat your flea fighting efforts.
The vacuum cleaner can help remove flea eggs and pre-adult fleas. Pay special attention to cracks and corners, and either vacuum up some flea powder or throw the bag out when you're finished as fleas can live within the vacuum bag.
back to top

PPR Thanks…Cooldog USA!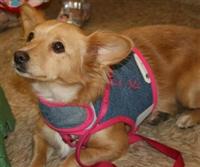 PPR would like to thank Cooldog USA for their generous 'adopt-me' harness & scarf donations. Their adorable products are wonderfully designed and locally handmade from recycled jeans!
At right: Mamma Emma sporting her new 'adopt me' vest!
back to top