Thank you!
Pound Puppy Rescue is a non profit, entirely volunteer organization. Your contributions ensure our continued success and ongoing operations.
We accept online donations. No amount is too small. Thank you for your support!
For check donations, send checks to:

Pound Puppy Rescue
50 Woodside Plaza Suite 310
Redwood City, CA 94061
Other Ways to Help

Want to support PPR while you shop? Register for iGive.com and select Pound Puppy Rescue as your favorite cause. Install the iGive button and merchants you shop with on a regular basis will donate to PPR!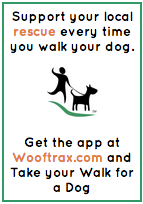 Donate every time you walk your dog!
Looking to donate your time? Check out our volunteer page for more information.
Pound Puppy Rescue Volunteers

None of this would happen without our volunteers. Our volunteers are angels. So many people help whether they foster or help at events. A lot of people donate so we can continue to save these puppies and get them healthy when they come out of shelters sick, and it is incredible, it is the best feeling in the world that so many came on board to help. We just wouldn't have the success that we have without our volunteers and donors.

-Kathleen O'Sullivan, Founder of Pound Puppy Rescue

PPR is a partner of Wags and Warriors whose mission it is to rescue, train and team K-9 companions to empower veterans living with physical and emotional challenges. Please donate to help them launch this exciting new endeavor by clicking on the image to the left!